Keep the home fires burning…
November 18, 2014 Tags:
« Back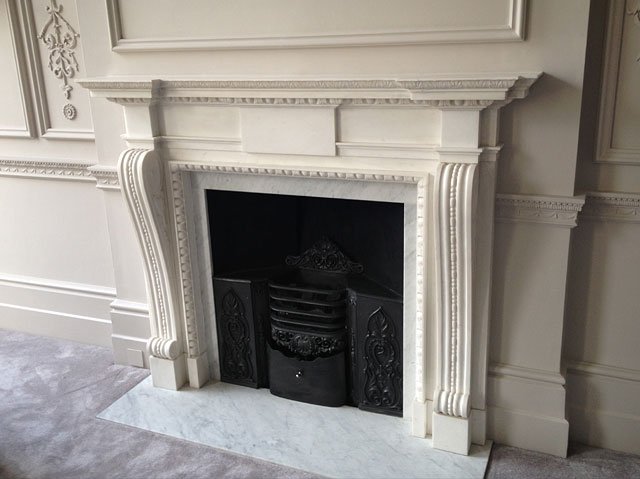 We are so pleased with this installation that we simply have to share it with you.
Although these pictures may look like they are all of different rooms the top shot and bottom right (pic 3) are actually opposite ends of the same room where we were called upon to supply grates to complement the existing fireplaces as well as the wallpapered and moulded walls.
After an on-site inspection we decided that the best way to achieve the perfect aesthetic balance for this unique room would be to have identical grates and fitted a pair of large original traditional Georgian hob grates, finished in black leaded polish, that we had in stock at our Marmorea showroom. As a pair, they are a rare find and our client was so delighted with the result that we were immediately commissioned to restore and supply some grates and fireplaces upstairs.
Two of the bedrooms had existing identical grates with tiled inserts which we restored and fitted with a white marble Victorian reproduction surround; it's simple lines ideal with the complexity of the tile and grate patterns (pic 1).
Finally, in the master bedroom we supplied an early 19th century original grate – a very handsome piece; again in black leaded polish – with a bespoke bullseye fireplace crafted especially to fit the grate (pic 2).
It is going to be seriously cosy in there when those fires are blazing.