A happy customer makes us happy!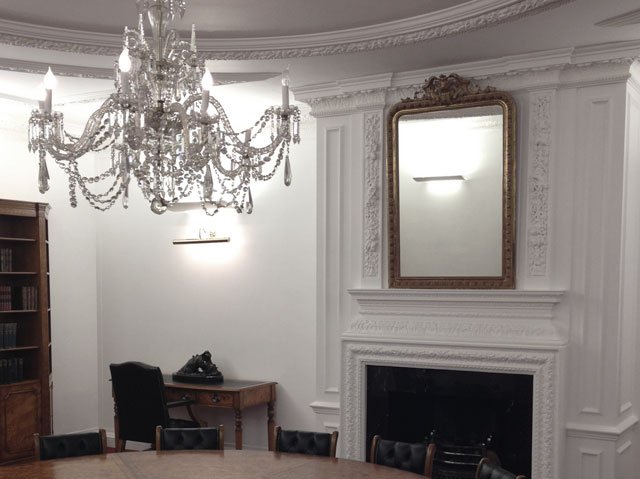 It's always great to see how things work out in the end isn't it? Most of the time the pieces we source – and sometimes lovingly restore – leave our shop and that's the last we see of them but, from time to time, we are able to see how our customers have integrated their pieces with existing furniture and decor and would like to share some photos with you.
We love these images from the offices of a Mayfair consultancy so that's a good place to start.
First impressions are extremely important in a business environment and the superb crystal chandelier hanging in the entrance area (bottom inset, second from left) seems to purvey an immediate air of exclusivity.
Looking at the main picture showing the conference room, we see how one of our classic French gilt over mantle mirrors and a large 19th century antique brass and steel fire grate marry up fantastically well with the integrated fireplace, while another of Mamorea's gorgeous chandeliers – this time a 19th century English crystal – balances the austerity of the dark wood furniture creating the perfect ambience for business meetings and maybe a drink or two (or three probably).
Moving on – and in keeping with the theme throughout – a beautifully ornate oval mirror and a French Marie Therese chandelier – both purchased from Marmorea – perfectly complement each other and the antique washstand beneath, adding a touch of elegance to the bathroom area.
Style and sophistication personified; even if we do say so ourselves.
We are always interested in seeing how projects using items sourced from Marmorea work out so if you have any, keep them coming.